7.1m2 Wind Wing v2
Our Wind-Wings are easy to fly and handle, from riding waves or flat water with our Wing Foil Boards, or on skis or snowboards, or a longboard skateboard.
The large size leading edge makes the wing very stable and reduces flex, for a solid controlled feel at any speed. The "Leach Panel" helps create shape and gives more lift in lighter winds. Ideal for Freeride, Waves or Freestyle riding.
The 7.1m2 is our biggest wing, it's typically used in light winds, but we at Stinger have flown it and we can tell you this is an awesome wing or for the rider weighing over 210lbs to use on water, but for land or snow it's too big a span and you'll burn the ends. The highest wind speeds we recommend flying the 7.1m2 is up to 18knots. Due to the large wing span a longer mast is recommended (32") to give you more clearance when on foil.
If you are under 180lbs, go with the 6.1m2 is as a light wind wing to own.
We recommend the 5.1m2 size wing as your 'Higher Wind" wing when purchasing this 7.1m2 Wing if weighing over 210lbs.
The large size leading edge creates stability and reduces flex with our power V handles. The glide handle, and 6 boom handles provide maximum control in all conditions. The leash panel helps keep the shape so you have power to help plane through most pockets of wind. It also helps you get power when pumping to rise up onto foil sooner. Enjoy this monster size wing.
---
| Size | Wing Span | Cord Length | Weight | Colour |
| --- | --- | --- | --- | --- |
| 7.1m2 | 165" | 78" | 2220 gr+/- | Black/Grey/Black |
Strong & Light Materials
A Tejin Dacron 3 x 3 rip stop fabric is used for the wing, this is the best material currently available. This comes from Japan combining rigidity and weight. Engineered to the highest tolerances making for a stiff yet light and durable Wind Wing.
Multiple Boom Handles
Handles provide direct wing control, they are made of highly resilient, plasticized and EVA fabric. They are stiff and still comfortable in the hands. Each handle is connected to the strut by a reinforcement wrapped around it. This distributes the strength to the whole strut.
Double Reinforce Window Panels
Our windows are double reinforced and generous size, so you don't Wing Foil blindly. There are blind spots when Wing Foiling and when it gets crowded on the water windows are a must!
Reinforced Trailing Edge
The entire trailing edge is reinforced with a Dynema tape and Kevlar tape at the boom connection, this reduces wing flutter and increase durability.
Leading Edge
The leading edge is reinforced in all connection segments and wing tips with kevlar material. These reinforcements prevent chafing of the tubes and thus increase the life of the wings. Each Wing size has its own leading edge diameter maximizing efficiency.
Inflate Valve and Boom Connector
The max-flow valve and the double inflate / deflate valve enables quick inflation and deflation. The boom connection allows you to pinch off the leading edge from the boom so if one bladder is to go, you have the other to get you home safely.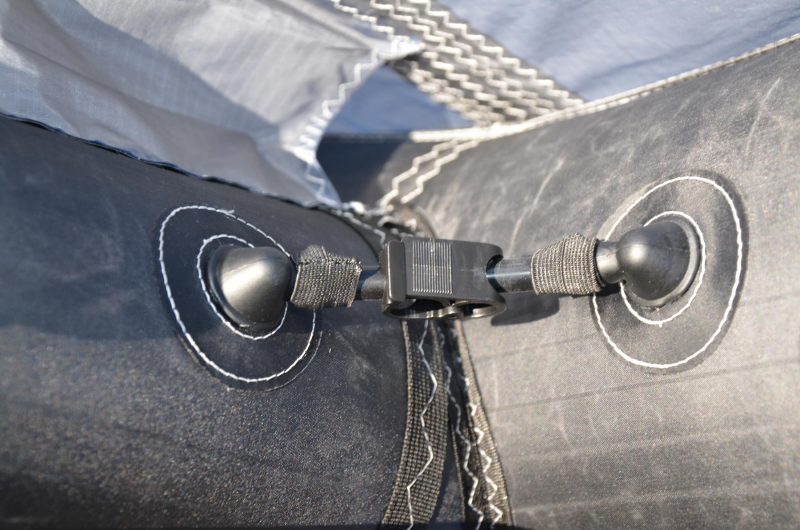 Seams & Bladder
The seams of the leading edge and the strut are offset with a layer of insignia. There's also a highly resilient special thread from UK production for the seams. Our tubes are made to handle a psi of up to 7. This enables our Wings to have a very stable leading edge and strut.
Integrated Leash Connection
Included wrist leash to secure the wing to the rider.
SUP Paddle Connection
Velcro overlap to secure your paddle to the boom for versatility and safety.
Badder Lock
Double reinforced with kevlar material to ensure strength and prevent damage on land or snow.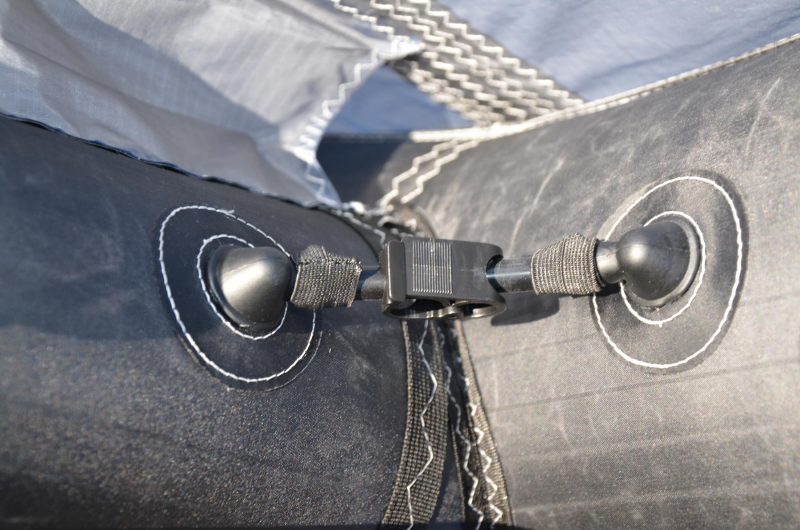 Double Action Pump Included with our Wind-Wing, double action pump to get you on the water even quicker. Pressure gauge ensures you don't over inflate.